About Us
The Bluemont Hotel is situated in the heart of the Little Apple, adjacent to Kansas State University. Walk through campus and view beautiful limestone buildings, as well as an array of foliage. Or, step across the street and enjoy local dining, shopping and nightlife in the famous Aggieville district.
Nearby guests can experience a number of local attractions such as Marianna Kistler Beach Museum of Art, McCain Auditorium, K-State Union Bowling, City Park, Bill Snyder Family Stadium, Sunset Zoo, Bramlage Coliseum, Konza Prairie, Ahearn Fieldhouse, Tuttle Creek State Park, Tointon Stadium, and the Discovery Center.
During your visit, our hotel amenities give you the flexibility for entertainment and relaxation. Enjoy the indoor heated pool, complimentary breakfast, 24-hour fitness center, lobby bar, business center and local room service features. Make your reservation today and enjoy everything our smoke-free hotel offers.
Parking
Parking is located North of the hotel. Our two level garage can be accessed from North Manhattan Avenue on the West side of the building. During peak occupancy periods parking will be limited to one car per room. If you are traveling with a group, please park additional cars in public parking at City Park or on designated side streets. From 5pm Friday through 5pm Sunday, free parking is also available across the street at K-State's McCain Lot.
Policies
Check In: 4:00pm Check Out: 11:00am
CANCELLATION POLICIES: Reservations require 48 hours notice for no cancellation penalty to be charged, unless booked on Special Event Dates which carry a 21 day cancellation and require full deposit. If booking on the 21 day advance purchase rate please note that these reservations are charged fully at the time of booking and are NON-refundable. Special Event dates include (but are not limited to): K-State Football home dates, K-State Graduations, New Years Eve, Fake Paddy's Day, Country Stampede, 2A Basketball Week.
NO SHOW POLICY: If you fail to show for the first night of your reservation you will be charged a No Show Fee equal to a one night stay. If your reservation is for multiple nights, you forfeit your reservation and your room will not be held for you.
Green Apple Bikes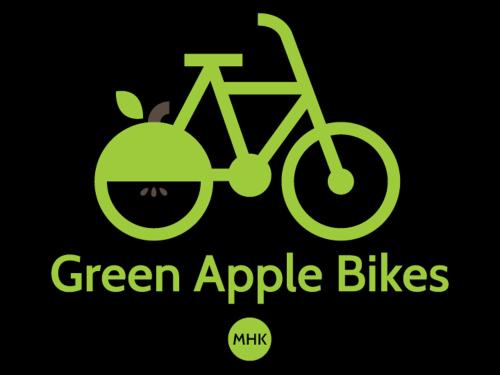 The Bluemont Hotel is partnering with Green Apple Bikes for Manhattan's first bike share program. Enjoy FREE use of these bikes by accessing the rack on the West side of our building. Information about additional locations can be found at greenapplebikes.com
Manhattan
Manhattan is a serious college town and the site of Kansas State University. The city is known locally as "The Little Apple" thanks to its name association with Manhattan, New York. Manhattan is full of bars and restaurants that are popular among residents and college students. It is also located adjacent to Fort Riley army post which employs over 3500 civilian personnel. Kansas State is the one of the largest college campuses in Kansas with a wealth of student life activities. The campus employs over 6,000 Manhattanites on its own. KSU is also one of the largest research universities in the country. The best degree programs at K-State include engineering and business.