Weddings
Celebrate your magical day at the Bluemont Hotel! With two beautiful ballrooms on our 5th floor, your event will have a very unique feel. Our preferred local caterers offer a variety of food selection to make your wedding dreams a reality. Planning a wedding isn't easy, and that's why we are here to provide you with the best experience imaginable.
Venues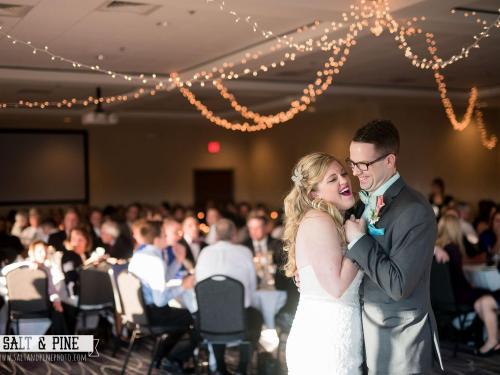 The Hartford (3,456 ft²)
Our main ballroom seats up to 250 people for a meeting, and 200 people for a banquet.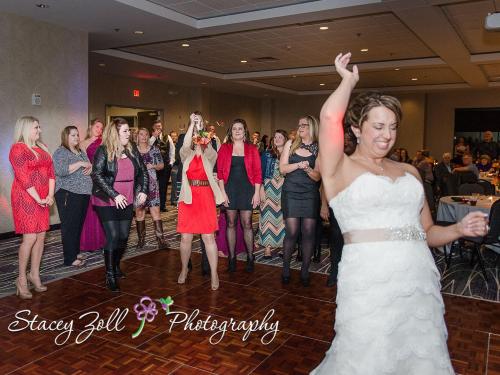 The Excel Ballroom (1,344 ft²)
Our ballroom has a capacity of 120 for meetings, or a 80 person dinner.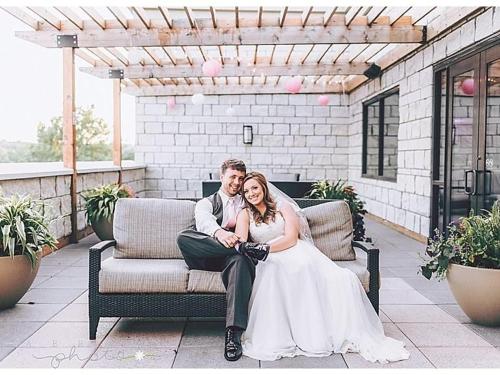 Rooftop Patio (768 ft²)
Located on the 5th Floor is a beautiful Rooftop Patio used for socials. This outdoor space holds around 40 people.
Frequently Asked Questions
Is there an in-house caterer?
Bluemont Hotel offers extensive menus prepared by a number of local caterer. Please review our Preferred Caterer Listing.
Can we select our own caterer, or bring in our own food and beverage?
In order to provide you with the highest levels of service and food quality, selecting a caterer from our preferred listing will ensure your events' success. Alcoholic beverages are provided and served by Bluemont Hotel staff.
Do you have a list of recommended vendors?
The Bluemont Hotel works closely with a number of qualified professionals and are pleased to help promote their services. Your sales manager will be happy to assist with providing additional information.
Who provides the serving staff?
Set-up and bartendering staff are provided by the Bluemont Hotel. Food service staff is provided by the caterer of your choice, from our preferred listing.
Do I need to rent tables and chairs?
Tables, chairs, plates, silverware, serving utensils, and glasses are included. Table linens, napkins and other equipment may carry an additional cost.
Can you hold a ceremony on site?
We accommodate wedding ceremonies in our unique venues.
What are the guest accommodations?
The Bluemont Hotel has 112 guestroom with around 50 of these rooms configured as suites. A room block can be made upon request for your out-of-town guests.
How do I reserve a date?
Our Sales Department can tentatively save a date for two weeks. A reservation is guaranteed after the contract is signed and a deposit is received.
Whom should I contact?
Please contact our Sales Event Coordinator at bluemontsales@bluemonthotel.com.